Our Pack

As you read through the residents bios, you will see their stories. When we bring a dog home that's just what it is.....home. When we commit to a dog that commitment isn't just food and a bed but also the security of knowing they belong to the pack and are loved. I don't care who you are, dog, cat, human... belonging and being loved is what makes life worth living. That's just what they do here they thrive.






MEET THE PACK

---
---
---
Eddie Ray is a Rat Terrier that came to us from a shelter in Pampa, Texas on April 26th 2015. He was dumped on the side of the road even though he is blind. We know he did have a home because his neck is permanently scarred from a collar that was too tight and had been removed. He had a dental and lost seven teeth and of course he had never been neutered so we did that at the same time. He is doing much better....we think his estimated date of birth is 2005.
Welcome home Eddie Ray!


---
---
Dudley is a Boxer mix that we found at a shelter in Trinidad, Colorado on June 28th, 2010. Dudley is a rescue that we actually looked for after the death of Curtis's very best pal Pharoah. Dudley is our offical greeter Always tolerant of new pack members Dudley has always been a true gentleman.
His estimated date of birth is 2001.

---
Chiquita
was surrendered by a homeless family in Longmont, Colorado. She was adopted quickly and returned two days later for biting. When the shelter contacted me Chiquita was on a "bite hold" and they were looking for a sanctuary. Her date of birth is 3/21/04 and she arrived at ODH on 10/25/15. Chiquita just needed time to adjust she no longer bites, unless you try to trim her nails.

| | | |
| --- | --- | --- |
| | Sassie the Beagle was born in 2005 and came to us after a nasty divorce on 01/08/2013. The owner had many animals she needed to find homes for and when I was approached Sassie was the only one she had not been able to place due to Sassie's incontinence. Sassie is a perfect breed example. She spent the first 5 years of her life competing in dog shows. We think her incontinence is the result of many long hours in cages as she mostly urinates on any available bed - hers or anybody's! Aside from the bed wetting issue she is a sweet and obedient girl. | |
---
| | | |
| --- | --- | --- |
| | Luke is the product of doing a friend a favor. He was a bully to his smaller Min-pin/Chihuahua mother and a 3 pound Yorkie in his previous home. We brought him here to let him be around bigger breeds that he would not be able to bully and the end result is that he bonded with Curtis and Dudley. Luke isn't really a bully...he is a true boy who loves to rough-house. With those friendships forged Luke had found his forever home. He arrive here September 18th 2011 and was only 11 months old. | |
---
Sarge is a Husky / Cattle dog mix his DOB is 2003. He arrived on December 19th 2015. His DOB is approximately 2002.
Sarge's owner had passed and the owner's daughter, who lives on the east coast, was determined to find a home and not have to resort to a shelter for her father's best friend.
When I met Sarge I knew he would be a perfect candidate for the ODH and I was right. He is very disciplined, house trained and No issues with any other dog here. Sarge had very long nails that were trimmed first thing. Then we got Sarge a dental. Sarge now holds the ODH record for teeth pulled, 35. He is now totally toothless and is loving life. He does have arthritis, his blood work was good so even though Sarge is 13 he still might be with us a couple of years.

---
Tucker
He is a Chihuahua his birthday is April 16, 2005. Tucker was surrendered to ODH because he did not get along with the new baby......Uh ha don't get me started on this subject. I'll put it this way we have taken quite a few dogs that according to their owners do not get along with the new baby. Mind you after they have had these dogs for over 10 years.
Tucker arrived Jan. 13, 2016. Tucker is very sweet and active and is best friends with Luke and Jeffery. At this time he has been here over a year and has no known health issues.

---
---
Thaddeus Wilson
Chocolate Lab Mix. His estimated date of birth is 2006. Thad had been returned to the shelter at 1 year old and then spent the next three and a half years in a 4X8 foot cage. He is a product of the system. When we were ask to take him we were told he was "vicious" and had lost all trust in people. That is exactly why they brought him to us at the ODH. Everyone had given up on him except for a 20 year old girl at his shelter who was able to bond with him and show us his true spirit. The NEW shelter manager who had originally contacted me was looking for a sanctuary for him to be able to live out his days in a free and humane environment and has now implemented changes in the shelter policies to make sure Thad's story is not repeated. It has taken since 04/20/2011 but Mr. Thaddeus Wilson has now decided people aren't so bad and he loves to be loved on.

---
| | | |
| --- | --- | --- |
| --- | Jeffrey is a Cock-a-poo and came with his pal Mutt in April of 2008. His estimated date of birth is 2000. We aren't sure of their history but we rescued them from DAWGS in Dalhart, Texas. They were dirty and stinky and it was a six hour drive. Originally we thought they were brothers but the Vet said Mutt was several years older and possibly Jeffery's father. Mutt passed in 2012 of kidney failure but Jeffrey is now bonded with Luke, his best buddy. | |
---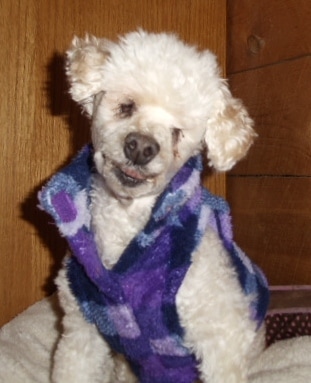 Sweetie is a Poodle that was found Stray in Kansas. Our Vet thinks she has been blind from birth. I guess her people just got tired of her. I don't know. She has been here since March 29, 2013 She stays in my bedroom with Eddie Ray that is also blind. When the weather is good they are taken out to the garden or the deck for some fun in the sun. She is in good health and her estimated DOB is 2005.

---
---
---
Murphy Bearded Collie His estimated birth year is 2002 and has been here since December 20th 2004. Murf is the exception to the rule at the Old Dog House. He was rescued the first year we were in operation.
His horrific story started as a puppy in Denver. When rescued he had already been severely abused by children that would tie him to a fence and ride by him on bicycles and hit him with sticks eventually breaking his jaw. When we took him to our Vet we were given the option to re-break his jaw to realign it or to just leave it. The Vet agreed leaving it alone wouldn't cause him any problems so that is what we did. To this day he still has a fear of bicycles and motorcycles. It appeared he had never been groomed. He was so matted he couldn't put his back leg down or lift his head. When we had him groomed his entire coat came off in one piece like a large sheep skin.
We know the new memories he has gotten here will help obscure his horrendous beginnings as he has made great progress through the years. We love you Murf.