Old Dog House assists many souls in their final journey to the Rainbow Bridge. The dogs included here are those who made their journey in 2016 & 2017.

Sweetie 2005 - 2017
Sweetie was a Poodle that was found Stray in Kansas. Our Vet thought she had been blind from birth. I guess her people just got tired of her. I don't know. She had been here since March 29, 2013. She stays in my bedroom with Eddie Ray that is also blind. Sweetie was sent over the Rainbow Bridge Oct. 28, 2017. Sweetie started spinning and was getting stuck in corners something happened in her brain she was not the same as she had been for many years.
---

Otis 2004 - 2017
Otis was one of the smallest dogs we had ever rescued. He was rescued by a friend that has a Big dog rescue so he came here on Nov. 24, 2013. He had terrible teeth so we got him a dental and he quickly gained weight and got healthy. His est. DOB was 2004.
He passed assisted on March 6, 2017 from internal bleeding. I will miss you for a very long time, Otie.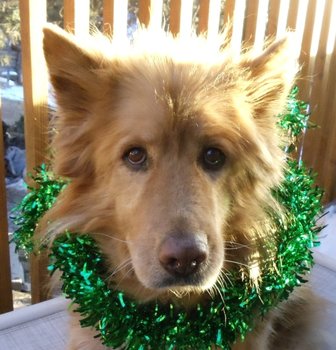 Suki 2003 - 2017
Suki was a beautiful Chow / Golden mix. She arrived June 8, 2015. Suki was fearful of thunder storms and kept running during storms so her owners decided to find her a safer home. It's not a secret that I have a weakness for Golden's so I welcomed Suki into the pack. She was one of those dogs that I never truly felt we bonded. All I can say is she lived life as she wanted never needing anything just wanted to go for walks with the pack and hang out on her Kuranda bed. She passed on her own after a short illness, possibly cancer on March 1, 2017
---
Miss May 2003 - 2016
​Miss May a Schipperke and true to her breed she was our official security dog. Miss May arrived April 20, 2013. She loved to be outside.She did have a stubborn streak but most the time was the perfect little dog.
Her passing was a shock because she passed during a dental. We found later from a X-ray she had a enlarge heart. Out of 50+ old dogs that we have had dentals we had never had a old dog die while getting a dental. I wished it wasn't her time she was a joyful dog, happy and always animated. I still miss you Miss May. She passed Feb 9, 2017
---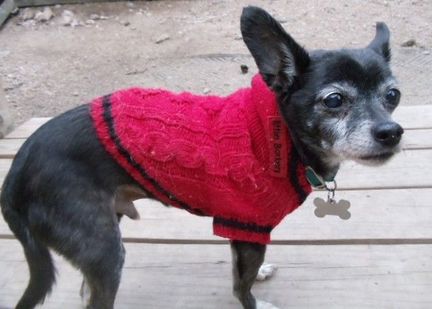 Bentley 2000 - 2016
Bentley was the sweetest Chihuahua. He arrived April 24, 2014. I was told he was 12 years old.
Bentley was diagnosed with a heart condition shortly after arriving and had been on heart meds for 2 years. He was a real trooper he fit in well and loved everyone. After his passing I called his previous owner to let him know and he fessed up that he had lied about his age that Bentley was actually 16 yrs. and 1 month. Bentley's heart finally wore out and he passed Oct. 21, 2016

---
Eepany 2005 - 2016
Eepany a Shih-tzu arrived May 9, 2015. Her owner died the night before knowing Eepany had a safe place to go. Her DOB was 2005. Eepany was blind and frankly kinda fat other than that she was in good health. Eepany's blindness really didn't affect her to much it affected all the other dogs though. Being blind Eapany's response to bumping into another dog was kinda rude she would go into bite mode hence none of the other dogs messed with her they basically ran from her so they wouldn't have confrontation with her.
Eepany passed on her own after a short unknown illness on Oct.1, 2016


---
---

Callie 1998 - 2016
Callie was the glue that held the Pack together she was a constant here for 12 years. She greeted more than 200 dogs through our door. She was the boss and everyone knew it. Callie we miss you every day. Callie passed assisted by Sindy on Sept. 12, 2016 after a week of failing health. There will never be another dog like you Callie.


Buddy 2000 - 2016
Buddy arrived at the Old Dog House Nov.11, 2014 his Mom of 14 years was moving to take care of a aging relative and could not take him with her. She loved him so much and was so grateful to us for taking him.
Buddy was a good dog and never gave us any trouble he was just a sweet o'l boy. Buddy passed on his own Sept. 4th 2016 after a short illness.


---

Ruger 2004 - 2016
Ruger arrived at the Old Dog House April 5th 2014. His mother of 10 years moved and left him and another dog with a friend. The friend contacted us as the original owner had agreed she needed to relinquish ownership to the ODH.
Ruger is a regal boy and a perfect example of a pure bred German Shepherd. He was very well mannered although at 109 pounds he had been know to push his weight around. True to his breed he liked to talk and talk and talk.
Ruger passed away assisted July 15, 2016 his back legs gave out and we could no longer control his extreme back pain. He was 12 years old had been here 2 yrs. and 3 months.

Betsy Boo 1999 - 2016
Betsy came to us from Caring Hand shelter in Newton, Kansas on June 22, 2011. Her estimated date of birth is 1999 but she was active and healthy. Her owner died leaving her and eight other dogs with no where to go.
In August of 2013 she had an eye removed because of glaucoma which was very painful and at the same time had her last 3 teeth removed. Then in 2015 she had her other eye removed. Betsy was my special girl and my constant companion for almost 6 years. She lost her battle with kidney failure on 2-24-2016. I miss you still my girl!

---