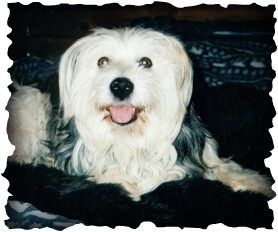 Old Dog House was started by a little dog named Benj. In 2002 we went to the Co. Springs (kill) shelter for some forgotten reason. (At the time we were the typical 4 dog, 2 cat family.) While there Pam looked over and her eyes were met by an old dog who raised his head and stared solemnly at her. He was horribly matted, extremely dirty and took over Pam's heart instantly. He was on a stray hold and Pam immediately spoke up for him when he would become available. When Pam and I returned a couple of days later we were told that his 'family' had come by, identified him and said they didn't want him anymore. He was just a nuisance. He was sixteen years old at the time. He came home with us that day.

Benj had a lopsided gait because one leg was shorter than the others; he eventually became deaf, then blind. We were blessed with his company for two more years. This incredible being had a smile on his face every moment of the day. He never complained about any of his difficulties. He exuded acceptance and joy! He was a constant source of inspiration and amazement to us.

I believe Benj came to us with the message that old dogs needed our help and love.

So it was in March 2004 we took in our first old dog rescue, Katie, a 12 yr. old Pointer from Texas who was full of buckshot and had a severe case of heart worm and a tumor on her breast. She responded well to treatment and we had her almost 3 more years.

Since 2004 we have rescued and cared for 205 old dogs – every size, breed, and personality imaginable. They stay with us for life- we do not adopt them out – they have already been rejected at least once and old, disabled dogs are not high on most people's wish list!

We have taken in a few younger dogs, always due to extreme conditions. Quite a few of them have gotten great foster homes.

Our sole focus is on the well-being of the dogs. It's quite simple; plenty of good nutritious food, soft beds, medical treatment when needed (often) and unending love and attention.

Our only regret is that we cannot take more of these beautiful, deserving beings. Because of their special needs they cannot be kept in pens as happens in many rescues. These guys live for the most part in our house. And they have the opportunity to run freely through the forest around our cabin. They are very happy and feel that they are our personal pets— which, actually they are. It is a unique situation!


---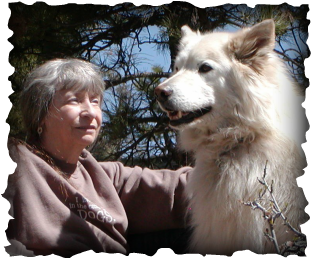 Pam Carr co-founder of the Old Dog House.

Her passion with dogs started when she was a little girl in Montreal, Canada where she was born, and a little dog named "Blackie". She always preferred the scruffy dogs that were deemed unadoptable and had "attitude".

Pam worked at the Midnight Rose Casino in Cripple Creek as a cashier for 20 years which provided the start-up funds for the Old Dog House. However, Pam's passion was her work with senior dogs.

As co-founder of "Old Dog House", along with Sindy Andersen, they rescued 155 dogs in the eight years that the two of them operated the animal rescue. With a mission statement of "Providing Elderly Dogs with the Secure, Comfortable Home they Deserve", their 501c3 non profit old dog rescue was established in 2004. They took in elderly dogs from all over Colorado and gave them a warm comfy bed and peaceful surroundings to live out the remainder of their lives.

You can not tell the full story of Pam without mentioning, Sam, a Samoyed / Border Collie Mix that was with her for over 16 years. That's Sam in the picture with Pam. She credited Sam with his insight that dogs desire to run free. The rescue located in the central Colorado Mountains is a perfect setting for just that! Dogs can bark, romp and explore to their hearts content!

Sam also inspired Pam to become a published author, penning "Dogs at Large". It was a life accomplishment that she was very proud of.

It takes special people to be able to care for animals, knowing that they are entrusted with the final days of their lives and doing what is best for the animals, with love in your heart. Pam's legacy is that the Old Dog House continues to provide a secure, comfortable home for elderly dogs.

Always a lover of dogs, Pam Carr, 66, passed away March 21, 2012, at her home in Florissant, CO. She was surrounded by Sindy, her partner for 15 years, and her dogs and met in heaven by the many animals she loved and cherished through the years.


---
Dogs at Large chronicles the adventures and misadventures of six rescued dogs who find themselves unceremoniously abandoned after the death of their human mother. Meet Sam, the wise leader, who guides the eclectic band of different breeds and personalities through an action-packed summer in the Colorado wilderness. Sam is accompanied by Daisy, the mildly schizophrenic Terrier; Gypsy, the logical and encouraging Border Collie; Murf, the excitable mischief-maker; Rocky, the eager but aloof leader-in-training; and Zeus, the entertaining wise-cracker. The dogs, determined to stick together at all costs, encounter both friends and foes in the mysterious forests of the Colorado Rockies. Their adventures range from the comic to the tragic as they learn valuable lessons about friendship, survival, and love. Readers of Dogs at Large will laugh, cry, and fall in love with the members of this wonderful canine family. Author Pam Carr spins a thrilling tale that is a must-read for dog lovers of all ages!

"This is a tale tinged with the warmth and familiarity that only genuine, intimate contact with animals can provide."

Dedication Too many animals find themselves homeless due to the death or disability of their human companions. Therefore, it is with gratitude that I dedicate this story to all those individuals and organizations who open their hearts and homes to care for these beautiful orphaned beings.

If you would like a copy the price is $13.00 which includes shipping. Just use the button below and leave a note in the comment section at PayPal letting us know you would like a copy!

---